Daily Archives:
July 23, 2012
Missouri Wrestling Revival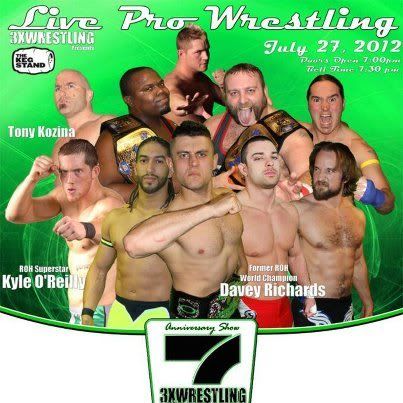 3XW – 7th Anniversary event
Friday July 27th, 2012
Baratta's @ Forte
615 3rd Street
Des Moines, Iowa 50309
Doors open at 6:45 pm for advance ticket holders
Doors open at 7 pm for everyone else
Bell time is 7:30 pm
Featuring:
3XW Heavyweight championship
Former Ring of Honor Word champion Davey Richards
vs.
Benjamin Sailer (c)
3XWrestling Tag Team championship
The Mylan Management Agency – Domino Rivera & Ricky Kwong w/Chad Mylan
vs.
American Bulldogs – Maddog McDowell & Jon West (c) w/Skylar Pierce
2 on 1 match
Gage Octane & Todd Countryman vs. "Torturous" Tony Sly
Singles match
"The Rockstar" Jimmy Rockwell vs. Darin Corbin
Triple Threat match
"Delicious" Devin Carter vs. Sir Bradley Charles vs. Nate Bash
Singles match
Mark Sterling vs. Ring of Honor wrestler Kyle O'Reilly
Singles match
Jaysin Strife vs. Ring of Honor wrestler Tony Kozina
Television Taping: KCWI & KWKB
*Card subject to…
View original post 126 more words
Wrestling Insights
In about twelve hours, the WWE will embark on the three-hour RAW era. This was unlike the time WCW Monday Nitro went to three hours where we had a couple weeks to prepare for it. WWE has grinded it to our medulla oblongatas for two months. It has a very PPV feel to it, which kinda makes me wonder why this RAW isn't being done with limited or no commercial interruptions. (Upon further review, the last commercial-free RAW was a bit awful, though the Khali Geico commercial was a bit funny.)
Anyway, here are ten predictions I have for the biggest…Monday Night RAW…ever.
There will be more than two members of D-Generation X at the reunion. How does WWE plan on hooking you at 8pm? Trot out a group that hasn't done anything relevant in six years (the DX reunion in 2006 was AWESOME—and yes I'm fully aware…
View original post 901 more words